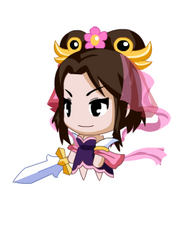 Adopted daughter of Minister Wang Yun of late Eastern Han Dynasty. Her fairy like beauty was taken as the advantage to cast the beauty scheme in the sake of the Nation and the people. She sacrificed herself to turn Lv Bu against the treacherous official Dong Zhuo and finally summoned the doomsday for the evil force.
Sign: Gemini
Blood Type: O
Character: Bright, sensible and considerate
RED
HP:
Attack:
GOLD
HP:
Attack:
EX Skill: Fairy Beauty: HP+10%. 25% ratio to stun the enemy when being attacked.